---
PCoIP is more than just the leading protocol for delivering secure virtual workspaces. It's also a rich and thriving ecosystem of ISVs, MSPs, VARs, systems integrators, cloud service providers, hardware OEMs and more, all working together to ensure that end customers have access to solutions that take full advantage of PCoIP technologies.
At Teradici, we're committed to nurturing and growing this ecosystem. That's why we're pleased to announce today the Teradici Technology Partner Program, a new initiative designed to help our partners build and deliver innovative PCoIP solutions.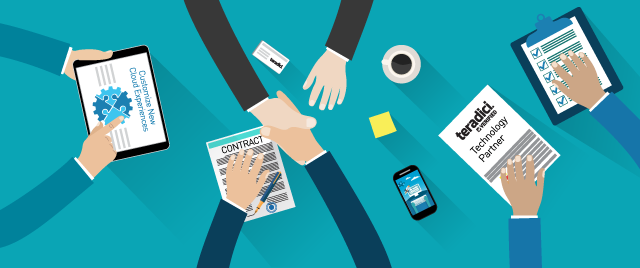 PCoIP today is used by millions of end users across many different industries, including financial services, healthcare, government, education, media and entertainment, retail, manufacturing and more. To best serve the diverse needs of these customers, the Teradici Technology Partner Program offers three levels of membership: Access, Premium, and Network Solutions.
Offered on an annual subscription basis, all three levels of membership provide access to open and extensible APIs and SDKs to help technology partners develop, integrate, test, and deliver solutions around PCoIP technology and Teradici Cloud Access Software.
The Premium and Network Solutions levels offer additional benefits, including co-marketing and social media opportunities, early access to Teradici software, enterprise-level support, and more. A full breakdown of the three membership levels and their associated benefits is available here.
Already in good company
The Teradici Technology Partner Program is an outstanding opportunity for technology providers to join forces with Teradici and take advantage of the value that PCoIP technology has to offer. But don't just take our word for it!
Today, we are also pleased to showcase two companies who have already joined the Teradici Technology Partner Program. The first is Leostream, a name that will already be familiar to many users of Teradici technologies. The Leostream Connection Broker has become the defacto tool for handling enterprise-wide rollouts of cloud and virtual workspaces.
"Leostream is very excited to join the new Teradici Technology Partner Program," says Karen Gondoly, Leostream's CEO. "For over seven years, Leostream has teamed with Teradici to provide a comprehensive connection brokering solution for PCoIP Remote Workstation Cards, PCoIP Zero Clients, and now, Cloud Access Software customers. The new formalized partnership allows us to take our combined solution to the next level and ensure that we always provide the optimal solution for all workflows."
The second partner we're announcing is FabulaTech, a maker of software for remote desktops that extends Teradici's native USB peripheral support with support for devices that are sensitive to network latency and bandwidth, such as webcams, scanners, and biometric devices.
"We have been immensely impressed with PCoIP technology and products, most noticeably performance and quality that the user experiences with their remoted desktops and applications. For example, PCoIP native sound redirection is the best we have ever heard before – clean and continuous," said FabulaTech SVP of business operations Vladimir Mostovoy. "Our recent partnership has already benefited our company and our mutual customers and we look forward to an exciting year ahead!"
Stay tuned
We'll have more partnerships to announce in the coming months. In the meantime, customers can take heart knowing that the PCoIP ecosystem is not just growing, but growing stronger and more vibrant than ever. When you deploy PCoIP-based solutions, you're drawing upon not just Teradici but a thriving community of partners, all dedicated to providing the most secure, highest-quality user experiences for every workload.
---