---
We recently announced a partnership between Teradici and Socionext to provide System-on-Chip (SoC) solutions that expands Teradici's PCoIP technology into new devices, markets and use cases. The first iteration of this partnership was the launch of Alta, our new line of PCoIP Zero Clients. Our next step will be exploring how we can expand PCoIP embedded endpoint solutions to broader user cases such as digital signage, automotive, interactive media streaming and more.

Partnering with Socionext
Socionext is an emerging leader in advanced System-on-Chip (SoC) technology for video and imaging systems. Socionext is focused on imaging, networking and other dynamic technologies to drive leading-edge applications and use cases.
Through our partnership, Socionext has released the SC1110 SoC processor, also known as PXiV, a highly-integrated device designed for virtual and cloud environments.
This SoC features Teradici PCoIP hardware decode technology and optimized accelerators to provide higher pixel throughput and lower latency for PCoIP Zero Clients, thin clients and cloud endpoints. The SoC also has integrated dual 4K Ultra HD outputs, resulting in a rich user experience and greater productivity with typical creative workloads.


Leveraging the SC1110 Processor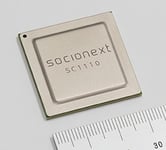 The introduction of integrated PCoIP hardware decoder in the new SC1110 processor has resulted in obvious performance benefits such as delivering up to 250 Mpps and various user benefits. From WiFi support to blazing fast decoding, the time was ripe to integrate SC1110 into a new family of PCoIP Zero Clients: Alta.
Building upon the success of Teradici's Tera2 PCoIP Zero Clients with over three million deployments globally, Alta PCoIP Zero Clients include wireless form factors and are ideally suited for virtual or cloud environments.
Like all PCoIP Zero Clients, Alta can seamlessly connect to a broad range of PCoIP-based solutions such as our own Cloud Access Software, PCoIP Remote Workstation solutions, VMware Horizon View and Amazon WorkSpaces.


Expanding the PCoIP Zero Client Family
By leveraging the leading-edge silicon designed by Socionext, we are able to think beyond our typical use cases. PCoIP Zero Clients need not look just like their standard workplace stand-ins (monitors, desktops, tablets, laptops), they can literally be anything. As The Register so aptly put it, we're looking to "spread our PCoIP protocol far and wide."
Alta Zero Clients are "gruntier," with enough graphics oomph to "join the chase to virtualize workstation-class applications."
As our CEO Dan Cordingley told The Register, Alta Zero Clients are "gruntier," with enough graphics oomph to "join the chase to virtualize workstation-class applications." WiFi, 2x 4K monitors, USB 3.0, DisplayPort or HDMI, and a new laptop form-factor PCoIP Zero Client means that we can offer high-performance mobility solutions for far greater use cases. PCoIP Zero Client All-in-One monitors connecting to AWS WorkSpaces? Digital Signage? We're on it.
The question is not where can we use a PCoIP Zero Client, the question is, where will we go next?
---