---
---
Our OEM partner Amulet Hotkey recently announced the availability of a new high-performance remote graphics cards for their flagship CoreStation Blade Workstation.
The CoreStation blade workstation helps speed the design, virtualization and simulation of anything from animation and movies to cars, wind farms and oil/gas reservoirs. The CoreStation DXM630 is the result of innovative system integration and design that combines the power of NVIDIA Quadro GPU and Teradici PCoIP technology with the scalability and efficiency of Dell EMC PowerEdge M630 blade servers to deliver a unique remote workstation blade.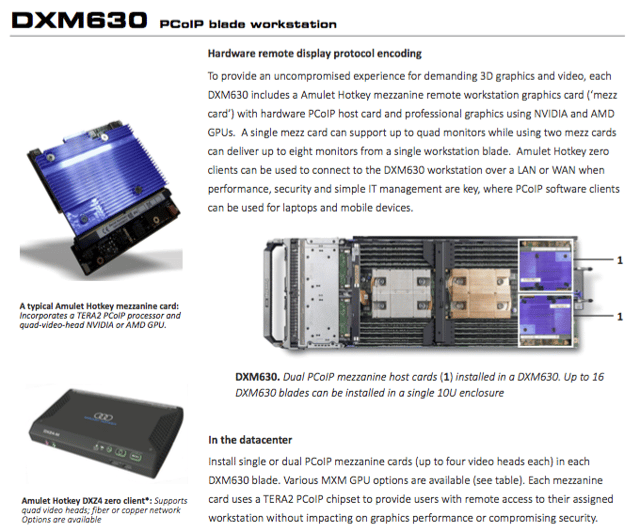 The announcement of this new high-density workstation solution is just one more indication that remote visualization technology is evolving to meet the needs of even the most demanding graphics professionals. Coupled with Teradici PCoIP Remote Workstation Graphics cards and the NVIDIA Quadro GPU, it's possible to remote performance workstations in a dense form factor ideally suited for data center deployment while also improving security and performance.
"We are delighted with the expansion of Amulet Hotkey's Remote Workstation Graphics card options to meet the security and performance requirements for the most demanding users," said Jayesh Shah, Vice President of Product Management, Teradici Corporation, "the combination of new NVIDIA Quadro GPUs with Teradici's PCoIP technology into a single blade mezzanine card make it possible for IT managers to provide access to Windows or Linux workstations anytime, anywhere with the highest quality user experience."
At Teradici, we are proud to work alongside Amulet Hotkey to offer a number of products, including PCoIP Zero Clients, the PCoIP Hardware Accelerator, Workstation PCIe Cards and a variety of Workstation Blade Solutions including the new high-density blade workstation featured here.
Earlier this year, Amulet Hotkey PCoIP Zero Clients became the first, and only, zero client vendor to receive a CPA Certification by the CESG, the National Technical Authority for Information Assurance within the UK. CESG certification indicates that a product has been thoroughly vetted by independent technical experts, a rigorous evaluation process which can take over 18 months. A CESG quality mark helps customers find trusted security products and services, important in both the private and public sectors. The certification validates the already long-established security credentials of Amulet Hotkey PCoIP Zero Client devices.
---