HP Anyware is the enterprise software that IT needs to keep people and teams productive with secure access to their digital workspaces from any mix of infrastructure (cloud, data center, edge, workstation) and end-user device (PC, Mac, laptop, tablet, thin and zero client), anywhere.
HP takes another step in improving usability and productivity for hybrid customers with the HP Anyware 23.06 product release. This update to HP Anyware* gives international users a more fulfilling login experience. And all users will appreciate the revised connection health tooltip and collaboration menu, as well as Anyware Manager's deployment flexibility.
As the digital workspaces software that benefits IT and users in hybrid environments, HP Anyware appeals to use cases across a variety of industries. Businesses in the financial sector, particularly those specializing in trading, can now benefit from new peripheral support for Bloomberg Keyboards.
In this blog post, we'll share more details about the newest updates to HP Anyware and Anyware Manager, as well as new developments that are in the works.
Updated HP Anyware user interface increases hybrid productivity
With the release of HP Anyware 23.06, our mission to give businesses the freedom to create, collaborate, and work securely from anywhere is further strengthened.
HP Anyware caters to diverse hybrid needs—our latest release gives international Anyware users a more satisfying experience when logging into the software. The 23.06 release supports multiple languages, including multiple European and Asian languages, on the login screen.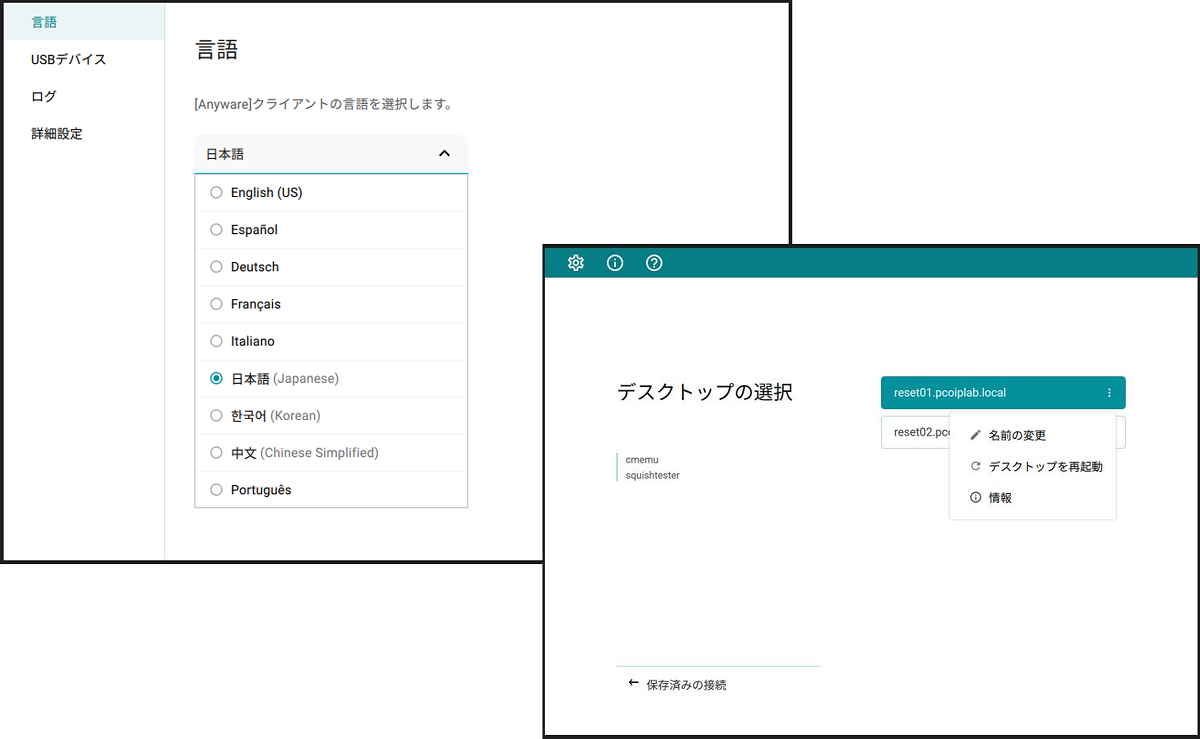 The Anyware team continues to iterate by making meaningful changes to the HP Anyware user interface. A couple of releases ago, we announced the Connection Health Monitor, an easily accessible tool that monitors your PCoIP® connection and can be used by both technical and non-technical users.
And now we've made it even easier to understand connection health data—we've introduced a tooltip that describes performance modes relative to each other. End users can better monitor their performance and IT admins are provided with productive troubleshooting tools.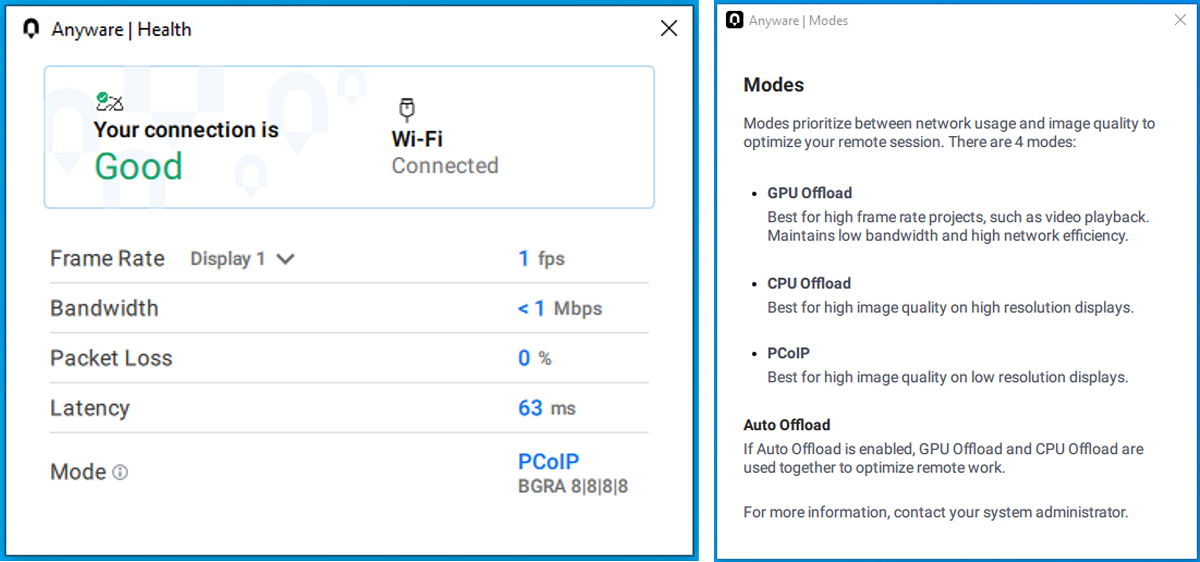 We regularly enhance our HP Anyware collaboration feature to match user needs. The 23.06 product release improves the user interface further by moving the Collaboration option to the top-level menu. Easily collaborate with colleagues from wherever you are, share your desktop and execute projects together.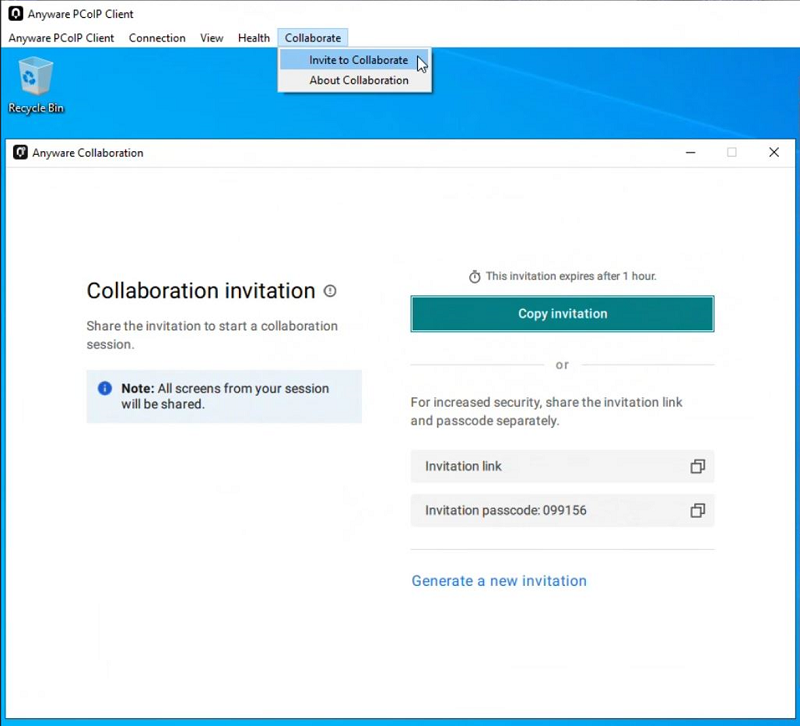 Making technology simpler to use is a constant goal for HP, and the Anyware team are making it easier for users to get the best performance with the least amount of work. We've introduced next generation performance modes that are "simplifying PCoIP as much as possible," said Patrick McConnon, Product Manager for HP Anyware. Anyware clients will default to the High Performance mode that is recommended by our engineers and offers all the Anyware features. This reduces the need for users to change modes themselves—we've done the work for you so you can be your most productive self!
New HP Anyware peripheral support benefits financial sector
Whether you are a hybrid worker, or are working in an office or studio, or working full-time at home, chances are that you are using a few peripherals alongside your workstation. HP Anyware already has support for multiple 4K monitors, as well as webcams, Wacom pens and tablets, and 3D mice.
Now, HP Anyware will offer even more advantages to both graphics-intensive users as well as knowledge workers who use the Bloomberg Keyboard 4 and 5, which is a crucial tool for investment trading workflows in the finance industry.
IT admins can manage deployments faster with Anyware Manager
As HP strives to improve usability for end-users, the HP Anyware team has been working on making the Anyware Manager experience even more efficient. We understand that deploying a digital workspaces solution, especially for the first time, can take up hours of an IT admin's day. This is a reality that the HP Anyware team has invested in improving with every product release for Anyware and Anyware Manager, the management plane which includes the Anyware Connector component and Anyware Monitor. Through Anyware Manager, IT can effectively manage and broker PCoIP connections.
With Anyware Manager 23.06, we've simplified the installation and configuration process of Anyware Connector. We're minimizing upfront configurations with a new UI which enables quicker setup for proof of concepts and trials.
Additionally, the 23.06 release for Anyware Connector will include support for connections made with Active Directory via the LDAP protocol, and optional Active Directory Sync (AD Sync). This addition simplifies prerequisites during installation and configuration and is recommended for test environments, thus enabling quicker setup for proof of concepts and trials.
Anyware Manager 23.06 now supports administrators from multiple identity providers, enabling flexibility for IT teams to add additional administrators from a different organization. This process will help system integrators and service providers manage their customers alongside the customer's internal IT team.
More new HP Anyware features are in the works
The HP Anyware team will continue to innovate to meet our customers' hybrid working needs. We've already got a host of features in the pipeline with many more to come.
In the next few months, we will be equipping Anyware Manager with role-based access control for multiple administrators of admin accounts. This update to the control plane will enable secure automation of Anyware Manager deployments, and administrators will be able to set access permissions and limit controls. And Mac® users can expect a simplified login experience when using Mac hosts.
Be the first to learn about new HP Anyware releases by signing up for updates. Existing HP Anyware customers can also test upcoming features and share feedback with our team. Get early access to beta releases here.
Boost hybrid work performance with HP Anyware
Want to know how HP Anyware has helped customers across multiple verticals? Read our latest customer stories. If you have questions about how HP Anyware can cater to your specific company needs, contact HP Anyware sales team with your questions.
*Disclaimers:
HP Anyware requires network access.

HP Anyware supports Windows®, Linux® and MacOS® host environments and Window, Linux, MacOS, iOS®, Android®, and Chrome OS® end-user devices. For more on the system requirements for installing HP Anyware, refer to the Admin Guides at:

https://docs.teradici.com/find/product/hp-anyware

.

HP Anyware is based on the Teradici CAS software and licensing platform and is available through a 1- and 3-year subscription. HP Anyware subscriptions are based on the number of concurrent PCoIP connections used (pay for the number of host connections, not the software) with a minimum order quantity of 5. HP Anyware subscriptions gives you a license key to activate a connection to a hosted desktop as well as support and updates to the PCoIP Agents, PCoIP Clients and the Anyware Manager available for download here:

https://docs.teradici.com/find/product/hp-anyware

.

For a limited time, an HP Anyware subscription also includes access and support for ZCentral Remote Boost and ZCentral Connect and is available for purchase through an HP Teradici seller or by contacting sales at:

hp.com/Anyware
HP Anyware team
HP Anyware is the enterprise software that IT needs to keep people and teams productive with secure access to their digital workspaces from any mix of infrastructure (cloud, data center, edge, workstation) and end-user device (PC, Mac, laptop, tablet, thin and zero client), anywhere.