Chris Butler is a Technical Alliance Architect for HP Teradici. He has over 20 years in the application and desktop virtualization space with a focus on Microsoft technologies.
The first Microsoft Production Summit, presented by NVIDIA and Unreal Engine, brought together executives and producers from Broadcast, M&E, Game Development, and tech evangelists to demonstrate the latest in virtual, remote and hybrid production, AI, and cloud workflows.
HP Teradici has had a long association with Microsoft Azure, NVIDIA and Unreal Engine and HP was proud to also be a sponsor at the event as well as host presentations at the Microsoft Production Summit. The event, which was held in July, was a great opportunity for sharing updates around HP Anyware, the digital workspaces solution for hybrid teams.
Chris Butler, Technical Solutions Architect at HP Teradici, managed the HP Teradici booth and gave us a behind-the-scenes look into the event.
Setting up for the Microsoft Production Summit
It's Wednesday morning and after the 3am alarm, to make a 7am flight, I am groggy but excited to attend the first annual Microsoft Production Summit in Burbank. My flight was uneventful and upon landing I am reminded of the sheer vastness of humanity that calls LA home. The rest of my team have not been quite as fortunate as me in their travel endeavors. Delays and layovers mean I will be alone for setup.
Upon arrival, I am greeted with the typical organized chaos expected at a first-time event, so I put on my patience hat and wandered the building. The venue, XRM Studios in Burbank, created the perfect spot to build out two film studios buzzing with setup activity—green screens, million-dollar LED panel walls, and a 3D cage adorned with 100 Nikon DSLR cameras—are all part of the eye candy that await attendees.
My stroll pays off as I meet Jess, the event coordinator and the answer to all my questions, who shows me where I will be setting up the HP Teradici booth.
My boxes of gear arrive, and I dive in. Unboxing the mighty HP Z8 takes some effort as it must weigh 40lbs. The weight is due to the sheer power of its dual processors—NVIDIA A4000 GPU, and an incredible amount of RAM.
My next find is a pair of glorious HP DreamColor monitors. These are stunning masterpieces of visual goodness that will give the Z8 workstation a proper canvas to display its capabilities.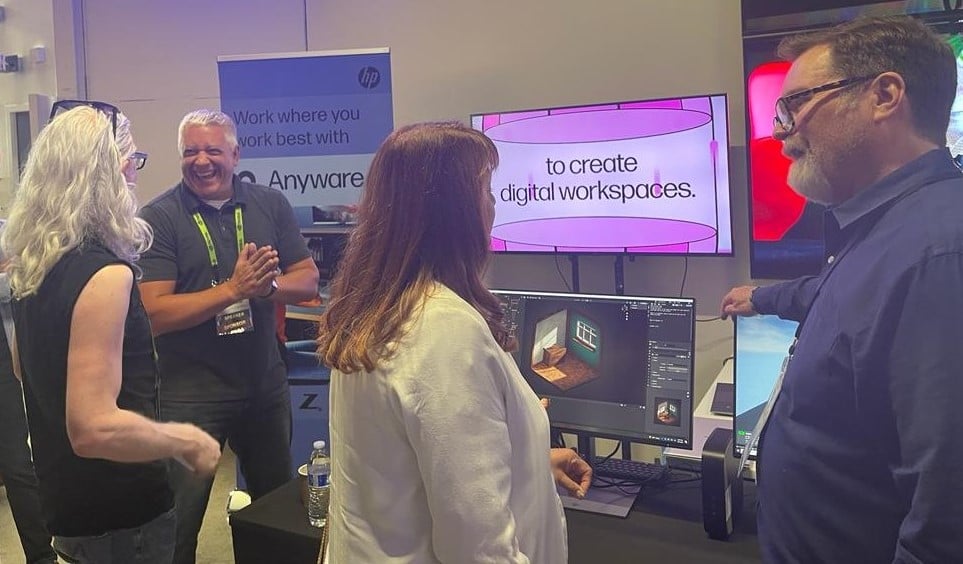 The next box contains the new ZBook Studio G8, so I unbox and connect it to the DreamColor monitors and then inquire about an internet connection. I am told it's down but will hopefully be back up soon.
I plug in a 5G Gateway device and boot up, and I now have a blazing fast connection. The first speed test shows nearly 300Mbps down and 150Mbps up inside a warehouse full of potential interference!
Now to put the plan together. We're demoing Unreal Engine 5 running locally on the Z8 workstation and connect the ZBook to a GPU instance running in Microsoft Azure. I log into our Azure portal, go to the Marketplace where I find Teradici Azure Virtual Desktops for Game Developers - Automated Installation.
In a few short minutes, I have an NVIDIA GPU-powered virtual machine with Unreal Engine 5 that, once connected via PC-over-IP (PCoIP®), performs as well as the local Z8!
Now I want to point out again that this performance is over 5G.
Microsoft Production Summit Day 1
Arriving at the venue early, I notice that extra power cables have been run to our area, so the likelihood of popping the breakers with the Z8 is a thing of the past.
After verifying all our pieces are show ready, it's now nearly time to receive the rush of visitors. 9AM comes and there's a line around the block of attendees waiting to get in.
HP Anyware is the primary topic of conversation—performance never waivers throughout the day—a great example of real time production for HP Anyware over 5G at a live event!
Our partners and studio customers provide a continuous stream of conversations focused on how to enable users to work on complex graphics-intensive projects from anywhere.
A representative from a major tech company we're working with (that I'm not allowed to disclose yet) stops by our booth to chat about our ongoing macOS development and how beneficial it's been for their business. Theirs is an interesting use case. Mac-based creatives need access to their studio setups remotely, and the Mac client is a brilliant fit. HP Anyware now supports Macs with Apple Silicon chips, which is a huge plus for use cases like this company's.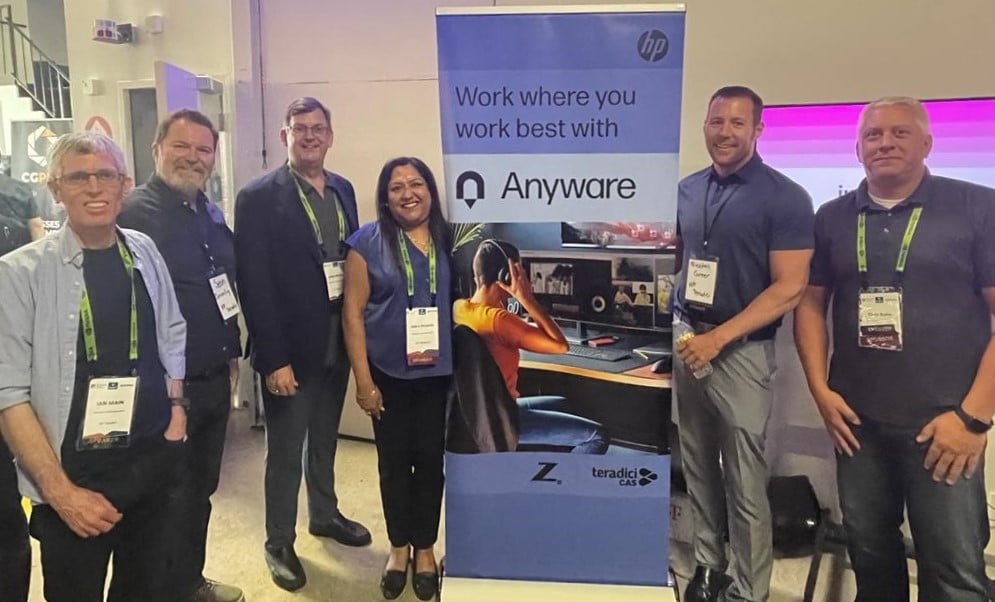 The day passes quickly and now it's time for our session. Nick Greer, Senior Solutions Architect at HP, presents on 'The Future of Remote Collaboration', discussing how the way we work has changed to a hybrid format where some employees work 100% remote, 100% in the office, and a combination of both. He shares the unique challenges businesses face today and how HP Anyware can ease the process of companies adopting hybrid compute technology and hybrid work models. The audience keeps us busy with questions about Anyware features and the roadmap for the solution.
With our presentation behind us, it's back to the booth to demo HP Anyware running on 5G. Such a fantastic combination to stay connected from almost anywhere and get work done!
Microsoft Production Summit Day 2
Friday, the last day of the Microsoft Production Summit, and folks are already lining up to get in.
Yesterday's session on remote work brings many studios to the booth for a deeper dive into what's possible with HP Anyware.
At midday, we host a panel session with Ian Main, Barbara Marshall, and John McVay called, 'Make It Anywhere: The Advantages of Remote Production.' In the informal chat, our team discuss the business and technical opportunities in remote edit and production and demonstrate post-production workflows in AVID Edit on Demand. The session has about 50 attendees, and there are plenty of questions about HP Anyware's performance and capabilities.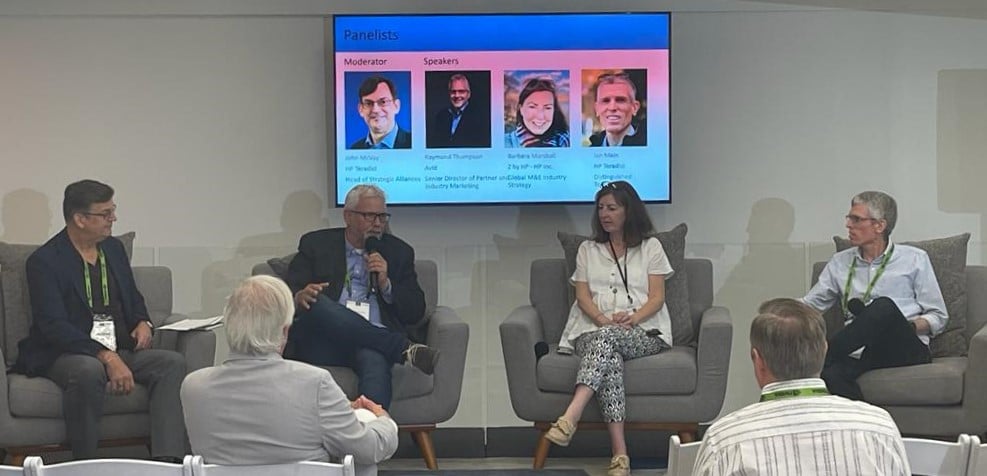 The panel is a fantastic success that provides another rush of attendees to the booth afterwards. Performance over the 5G connection is the 'wow' factor, as most are blown away that we can have that level of performance remotely.
The day is spent explaining how HP and Teradici combined strengths to bring the best of the Teradici Cloud Access Software and HP ZCentral Remote Boost and RGS together to create an unbeatable secured product called HP Anyware. Our first release was out in July to great reviews and fanfare. Some of the highlights include collaboration, audio, and improved performance.
As we close out the day, it's time to reflect on the remarkably positive results from a first-time event, Microsoft Production Summit, that will undoubtedly grow exponentially. Looking forward to meeting everyone next year in Burbank!
Learn more about how HP Anyware enables hybrid work and visit our Anyware page on HP.com for more information about implementing HP Anyware for your business. You can purchase HP Anyware on the Microsoft Azure Marketplace.
Chris Butler
Chris Butler is a Technical Alliance Architect for HP Teradici. He has over 20 years in the application and desktop virtualization space with a focus on Microsoft technologies.