---

When a virtualized desktop environment fails to meet expectations, it's likely due to either poor end user experience or higher than expected TCO, or both. The root cause is often a capacity issue. When server density is maxed out, that's when you start to see performance problems such as choppy videos and reduced interactivity for applications.
End users expect reliable and consistent performance, not slowdowns that remind them of the dreaded hourglass or "spinning wheel of death" that indicates an overburdened CPU. Thankfully, there is a solution that can dramatically reduce the load on servers and protect the user experience at all times: the Teradici PCoIP Hardware Accelerator.
---
CPU and Hardware Accelerator: The Dynamic Duo
The only product of its kind, Teradici PCoIP Hardware Accelerator intelligently offloads encoding tasks from the server's CPU. It allocates resources dynamically to up to 100 of the most active displays, ensuring capabilities are used where they are most needed. This provides both better performance and a consistent user experience, and it also improves VDI consolidation ratios by up to 2x.
These real-world improvements in performance lead to greater acceptance and productivity for end users and greater organizational cost savings. Customers such as Fairfield Energy and University of Waterloo are reaping the rewards of these benefits, among others.
Room to breathe
Thanks to its dynamic nature, the PCoIP Hardware Accelerator not only protects and ensures user experience at all times – regardless of whether your users are editing text or working with high-res 3D graphics or video – but it also eliminates the need to over-provision your system.
As you can see from the graph below, the Hardware Accelerator reduces the variance in CPU load, smoothing out spikes in CPU utilization and creating virtual CPU "headroom". As a result, not only do CPU-intensive applications run more smoothly, but organizations can also reduce the amount of CPU buffer set aside for "just-in-case" situations. That in turn means they can safely add more virtual desktops, increasing the VDI consolidation ratio without impacting the user experience.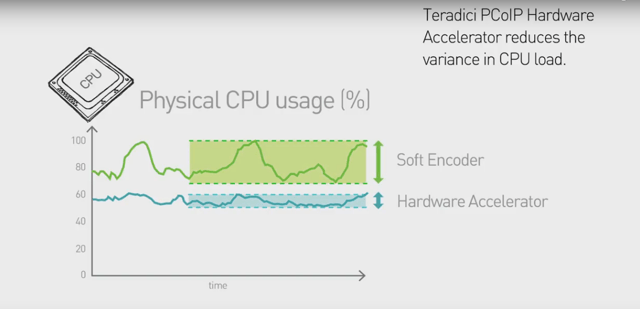 Hardware Accelerator vs GPU: Who does what?
Occasionally you'll hear of accelerating virtualized desktops by offloading display encoding to a GPU. This is certainly an option, but the PCoIP Hardware Accelerator offers distinct advantages.
For one, the hard costs of GPU desktop acceleration are an order of magnitude higher than the cost of the Hardware Accelerator. What's more, offload capabilities of the GPU are assigned simply on a first-come first-serve basis, which sharply limits the number of displays that can benefit. By comparison, the Hardware Accelerator offload capabilities are assigned and reassigned continuously based on which displays would benefit the most at that moment.
That's not to say a PCoIP environment can't benefit from a GPU, as the above video explains. For graphics-intensive 3D applications such as CAD/CAM and high-res video, a GPU can actually be used in tandem with a Hardware Accelerator, where the GPU accelerates image processing while the Hardware Accelerator offloads PCoIP encoding. The result is the maximal user experience for graphical applications that require the smoothest interactivity, where users can display dynamic content over multiple monitors with minimal overhead and performance issues.
To sum it up. PCoIP Hardware Accelerator is a cost-effective companion to VMware Horizon with PCoIP, particularly compared to GPU-based protocol acceleration. It both reduces hard costs and provides a more efficient offload capability. And when paired with a GPU, PCoIP Hardware Accelerator enhances the user experience without impacting the consolidation ratio, delivering the flawless user experience that only PCoIP can achieve.
---
For more tips on improving your virtual machine performance, Greg Shields of TechTarget offers these four tips: turn off screensavers, switch to a move efficient virtual machine management tool, rethink the process of anti-malware and antivirus scanning of VM disk files and ensure your server is set to its high-performance option.
To boost your virtualization project with the highest possible performance and cost efficiencies, deploy PCoIP Hardware Accelerator.