---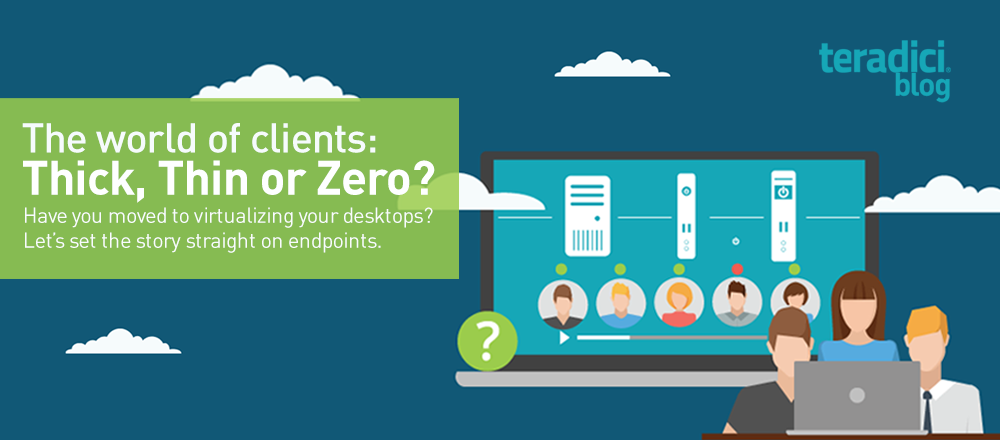 Have you moved to virtualizing your desktops? Are you struggling to determine which is the best client for your users with varying computational needs? Let's set the story straight…


The difference between Thick and Thin Clients
Thick clients are traditional PCs or re-purposed PCs. There are two critical issues that arise with PCs, one being vulnerability to security breaches as they retain copies of the desktop users are accessing, and they can cause significant business disruption if they need to be replaced which is costly both from an IT perspective and employee productivity standpoint.
Thin clients are essentially computer terminals that are purpose-built for remoting into a server; without any hard drives, and simply require operating systems to run local software. With fewer moving parts, these devices have less of a chance for component failures.


PCoIP Zero Clients in VDI or Cloud Environments

The key difference between Thin Clients and 'true' Zero Clients is that all computation work is done through the data center and only pixels are streamed to the desktop — there is no local operating system, which makes them ultra-secure. And, with no hard drive or fan, no moving parts, and no attack surface for viruses or malware — IT will sing it's praise as minimal ongoing management is required. Plus, PCoIP Zero Clients are trusted by federal and government agencies and support a wide variety of CAC/PIV smart cards.


Check out this handy table so you can compare for yourself: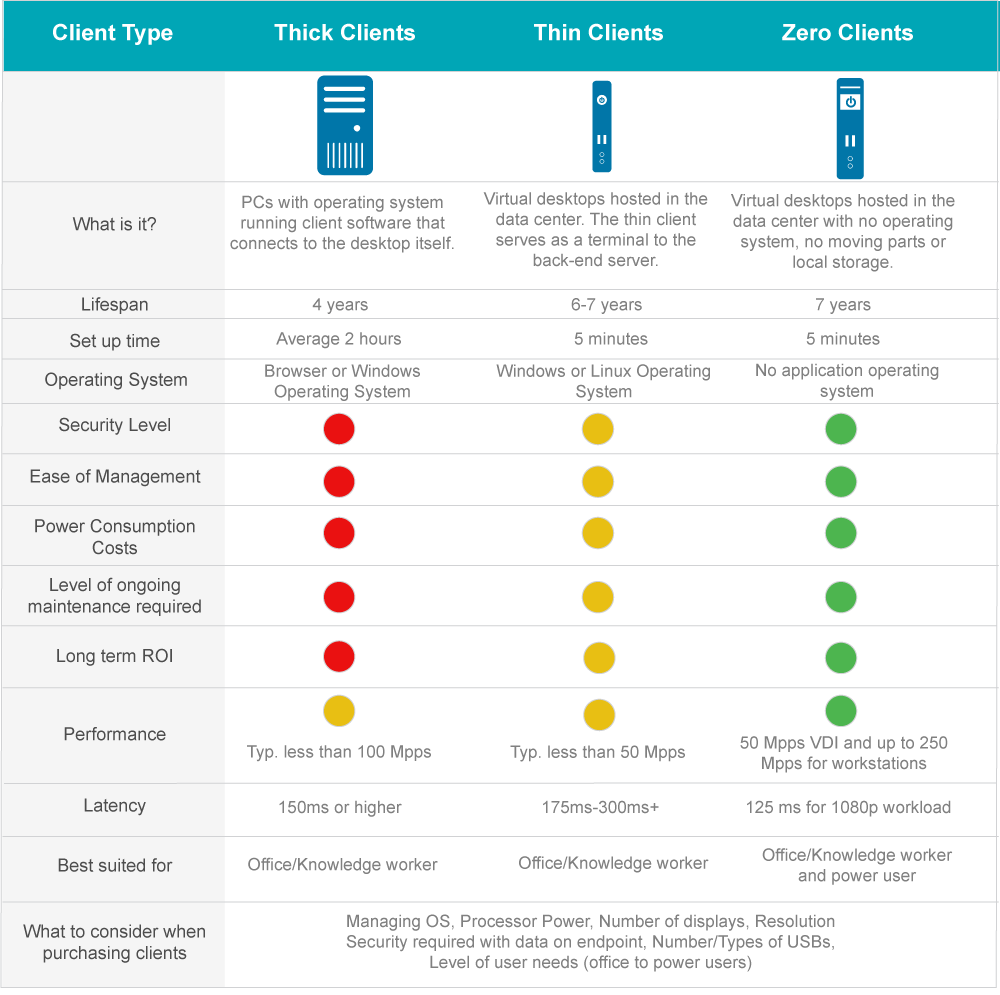 As shown, PCoIP Zero Clients score high on performance, security, ease of management, along with the lowest repair and replacement costs, and are extremely energy efficient — running as little as five watts of power. Clients can be scheduled to be 'powered off' when staff are not working to save even more in operational costs, and if there are any issues with the device they can be replaced within five minutes (less time than the average person takes to drink a cup of coffee).
My PCoIP Zero Clients have provided a seamless and consistent desktop experience for my end users while at the same time decreasing my capital expenditures and improving the back-end management by my IT staff.

Scott Chille
IT Director - Mason City Clinic
PCoIP Zero Clients are available in standalone, all-in-one, or laptop form factors from over 30 leading partners. Check out this short video clip to learn more about PCoIP Zero Clients.
Also, we have aTCO comparison calculator that illustrates the savings over a three-year period between deploying re-purposed PCs and PCoIP Zero Clients. All brands can be efficiently configured and managed with Teradici's PCoIP Management Console.