---
Today, HP announced the sleek new t310 PCoIP® Zero Client featuring all the security you've come to expect from Teradici's PCoIP protocol in a streamlined new design. Read on to learn more about the newest zero client...
PCoIP Zero Clients are the easiest-to-manage, most secure and highest performing endpoint clients on the market, able to support a rich user experience, even for the most demanding power users. With the single purpose of image decompression and decoding, the PCoIP processor eliminates endpoint hard drives, graphic processors, operating systems, applications and security software.


"The HP t310 Zero Client is our next generation zero client designed with a new look and feel," Jeff Groudan, HP Inc.

New Features & Sleek, New Design
"The HP t310 Zero Client is our next generation zero client designed with a new look and feel," said Jeff Groudan, vice president and global head product management and engineering, Thin Clients, HP Inc. "This PCoIP Teradici Zero Client makes deployment simple right out of the box and Teradici Management tools make updates and device monitoring easy."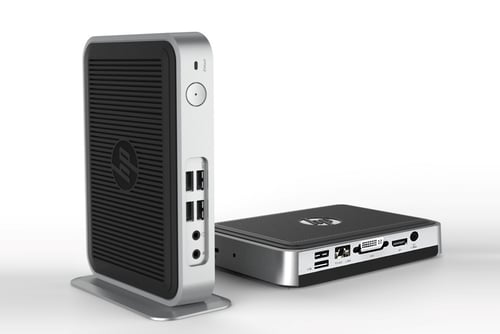 The new HP t310 comes with an array of new features:
•Impressive new sleek ID with built-in Vesa mounting pattern
• 6 USB ports
• Upgraded graphics options with one DisplayPort™ and one DVI port
The sleek new design is a testament to HP's engineering prowess, including more features with a smaller footprint.
"We are delighted to add the new HP t310 to the PCoIP product family" says Brian Lowe, Global Vice President of OEM Partners at Teradici. "All the new features will have broad vertical market appeal from a trusted global vendor like HP Inc."
Ready For VMware Horizon View and Amazon WorkSpaces Environments
Usable in VMware Horizon View and Amazon WorkSpaces, the HP t310 is easily deployed and managed using Teradici's Management Console. Ideally suited for Government, Media & Entertainment and Financial organizations, this zero client workhorse gives customers the tight security they need in these days of increased ransomware and cyber threats.


Learn more about the new HP t310 Zero Client here.