---
Teradici exhibited at AWS re:Invent 2016 a couple weeks ago, where we showcased our new Alta PCoIP Zero Clients and Cloud Access Software. We had many great conversations about leveraging PCoIP Zero Clients with the recent Amazon Graphics WorkSpaces Bundle release, the combination of technologies allowing designers & engineers to realize the potential of the cloud.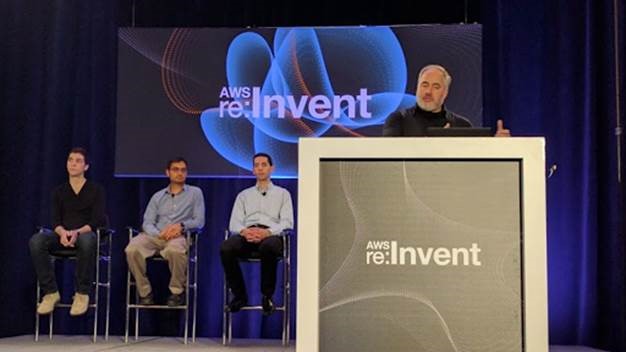 Teradici at AWS re:Invent 2016
Companies considering moving their desktops, workstations, and applications to the cloud stopped by to speak with our PCoIP experts to see first hand how PCoIP helps unlock the potential of the cloud. We had great discussions around organizations cloud strategies, deploying and managing secure endpoints and how to deliver high-end graphics applications leveraging the new Amazon Workspace Graphics Bundle paired with PCoIP Zero Clients.
In fact, if you attended a re:Invent Hands-On Lab, you've already had first-hand experience with a PCoIP Zero Client! Hundreds of labs were delivered using Amazon WorkSpaces and PCoIP Zero Clients at re:Invent!
Hands on lab? Yes please! Working with AWS CodeDeploy #Reinvent pic.twitter.com/NHnyRB8NMK

— Eyeview (@EyeviewDigital) November 30, 2016
Catch our Presentation Online
Teradici's Ziad Lamman joined Steve Mueller of AWS, Rajen Sheth of Google, and Forrest Smith of Neverware for the panel presentation of Zero to Google Chrome in 60 minutes. The panel set forth to demonstrate how to deploy a rich end-user experience on lightweight hardware, reigning in management issues, improving TCO and gaining improved experience with that of a 'traditional' PC environment.

Teradici PCoIP Zero Clients were mentioned as a lightweight and inexpensive client device for Amazon WorkSpaces, allowing you to run high-end graphics applications on low-cost hardware.
Learn more about PCoIP Zero Clients here.